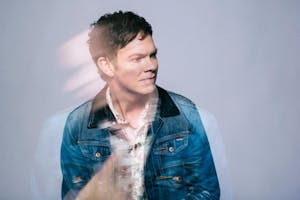 An Evening With Jason Gray $18 ADV / $23 DOS / $35 VIP (Q& A with Meet & Greet) at 5:45 VIP Doors 5:45 PM; GA Doors 6:30 PM ; Show 7:00 PM
Jason Gray has been compared to contemporaries like Brandon Heath and Bebo Norman, as well as revered artists like the late Rich Mullins and Mark Heard. He is able to marry beautiful melodies and the truth of the Gospel in catchy pop songs like "More Like Falling in Love" and "I Am New." It's the Message that ultimately matters the most.
Jason says, "We have to wow audiences with gimmicks and get on the charts. I wrestle against that because it can be a heart killer and completely irrelevant to God's calling in my life. I'd rather be real than impressive."
At his very core, his songwriting has always emphasized how "strength is the new weakness," something he learned from suffering from a chronic stutter in the past. As a result of revealing who he really is and what God has done in his life, in a vulnerable, transparent fashion, you will relate to his reflections on God's goodness and grace.
"When I'm willing to work out of my weakness, there are more chances for God to show up and for the unexpected to happen," Jason explains. "My strengths—which are really quite modest—are limited to me, but with my weaknesses the possibilities are boundless."
Venue Information:
Murray Hill Theatre
932 Edgewood Ave S

Jacksonville, FL, 32205